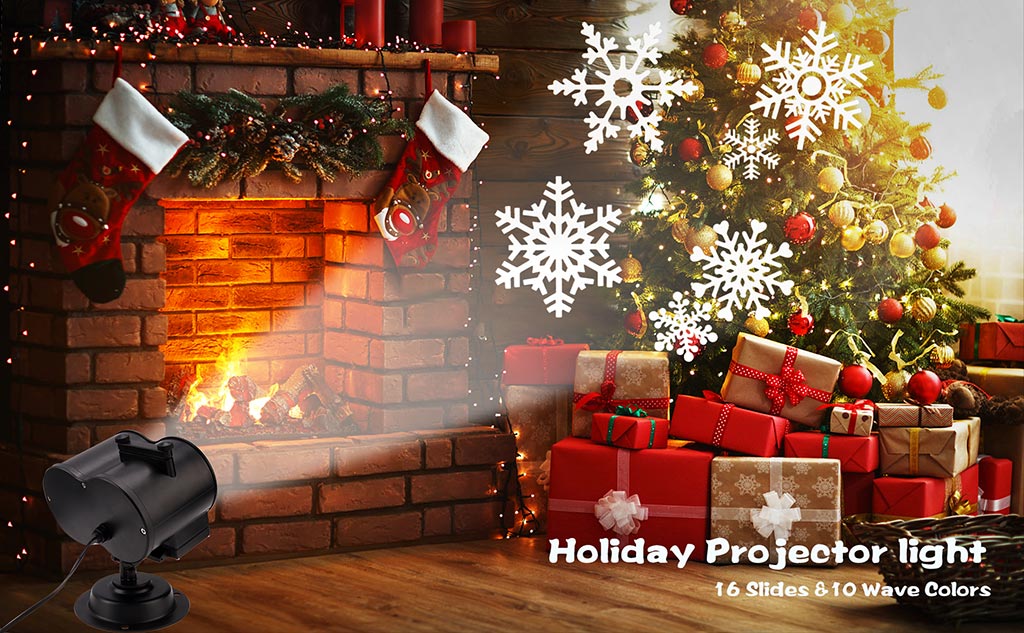 Wecolor Christmas Projector Light Features:
【2 in 1 Christmas decoration LED holiday projector light】This LED Projector light is equipped with 2 projection heads, one for 16 slides of fairy decoration patterns, and the other one for 10 kinds of colorful ocean-wave effect, then these two projectors lights mix together to create Fairy Christmas Scenes, just change the slides pattern film and it could create various effects as you like.

【2.4GHz RF(Radio Frequency) Remote Control Wireless Remote & Auto-Timer】By using the 2.4GHz RF wireless remote control, customer can turn on and turn off and play the projector lights fast and smoothly and conveniently, the traditional infrared controller need to aim at the lights, but RF remote control doesn't, and RF remote control distance can increase to 30 feet, can go through the wall. RF remote control can switch color, moving speed, flashing speed, set time 2/4/6 hours to turn off.

【Both Indoor/Outdoor Use Projector Light】Two options of light base for two different applications, option one is using the flat base to assemble with the light to let the light stand indoor. Option two is to find the place you want outdoor, and then insert the assembled stake into the ground. In order to get better brightness and visibility (in dark environments), please place the Christmas Projector Light at a distance of 10 to 15 feet from the projection surface, for example, the house wall.

【Switch scenes in one minute】16 cards can be used to dress up in various scenes, and the cards are easy to switch and can be used for up to 300 hours, making the party more atmospheric

【Easy To Install 】Power cord is lengthened to 20 feet. No worry about can not touch the power source outdoors.
Wecolor Christmas Projector Light Details:
Brand: Wecolor
Part Number ‎Px0021
Item Weight ‎1.74 pounds
Package Dimensions ‎7.44 x 6.02 x 5.08 inches
Item model number ‎SE508
Item Package Quantity: 1*Projector lamp, 16 slides