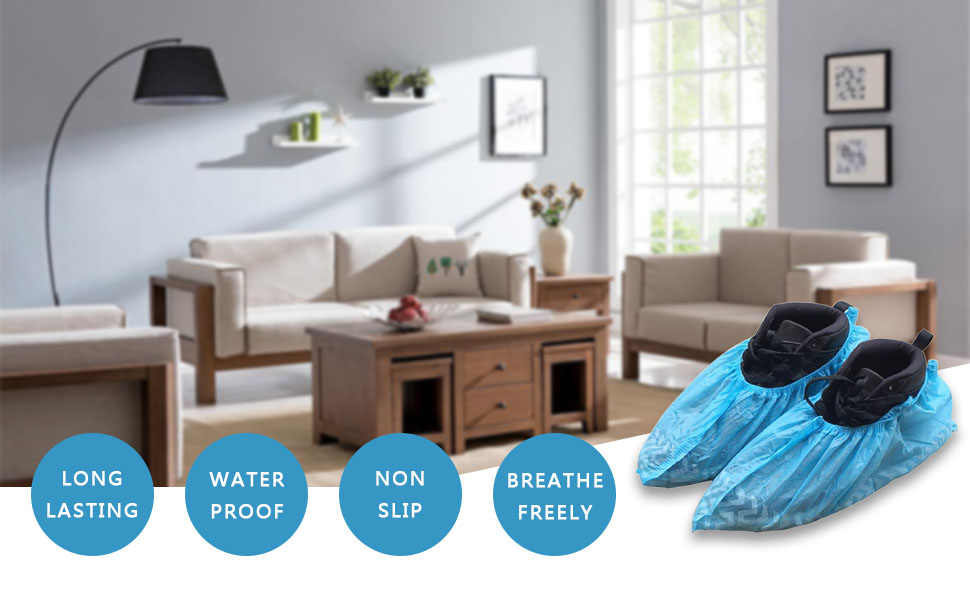 Wecolor Disposable Shoe Covers Feature:
BETTER MATERIAL – Our shoe covers are made of thick, long-lasting interwoven polypropylene fabric that resists tearing and rupturing. Heavy Duty non-woven Polypropylene with a higher GSM (35g) compared to competitors (30g) meaning our shoe covers are much thicker, stronger, and will last much longer!

SAFE & DURABLE – Our shoe covers are 100% recyclable, non-toxic, latex-free, phthalate-free, PVC-free.Our factories operate at the highest standard of quality control.

ONE SIZE FOR MOST – Our Large Size industrial-grade shoe covers contain an elastic band for flexibility to fit up to US Men's 11 and US Women's 12.5 adult shoe sizes and help keep the covers snug on your feet.

MULTI-PURPOSE – Our heavy-duty non-slip shoe covers will protect your carpet, and floors from filth and dirt. They come in a whopping bulk pack of 100 shoe covers which will accommodate dozens of uses, such as movers, contractors, construction workers, painters, plumbers, electricians, car mechanics, gardening, travel luggage, medical/surgical clinics, labs, daycare, home/museum tours, garden parties, production studios, and retail stores to from keeping your floors unsoiled, saving you time.
Wecolor Disposable Shoe Covers Details:
Product name: non-woven shoe cover
Brand: Wecolor
Material: non-woven fabric GSM (35g)
Specification: free size
color: blue
Quantity: 100 (50 pairs)
Features: thick and durable, non-slip and breathable
Application: home, computer room, laboratory, etc.
Note: For corporate orders or OEM, enjoy a wholesale price, please contact shop@wecolormasks.com.